The Great Bay Resource Protection Partnership is a collaboration of conservation organizations in the coastal region that promotes landscape-scale land conservation and stewardship.
The Great Bay Resource Protection Partnership's activities are guided by the Land Conservation and Stewardship Goals for Water Quality, Wetland Ecosystems and Significant Habitats, Migratory Bird Populations, Exemplary Natural Communities and Habitats, Working Landscape, Conservation Land Connectivity, Climate Resiliency, Recreational and Educational Opportunities, Conservation Stewardship (see our Background & Goals).

Since 1994, the Partnership has operated as a collaborative to promote shared conservation goals and implement conservation programs. The Partnership's primary role is as a convener of organizations to support the permanent protection and ongoing stewardship of the region's significant habitat areas and conservation lands.
The Partnership's comprehensive approach to conservation is guided by landscape scale conservation planning. This collaborative, science-based process furthers the understanding of ecosystem and water quality health, and informs the Partnership's land protection, management and stewardship activities. The primary activities of the Partnership include:
Conservation Planning: Conservation Planning provides the foundation for selecting land conservation priorities and advising management decisions.

Land Conservation: The Partnership provides assistance in the identification and permanent protection of priority conservation lands. The Land Protection Transaction Grant Program provides funding for transaction costs associated with permanent land protection such as conservation easements, full fee acquisitions and donations of land.

Stewardship: Stewardship conservation responsibilities include the collaborative management of conserved properties from a landscape scale perspective that respects the integrity of the entire ecosystem.

Recreation and Education: Conserved lands offer quality public access and Partner organizations provide recreational and educational opportunities that are compatible with natural resource protection and management.
The Partnership includes Principal and Community Partners representing state and regional private non-profit conservation organizations and land trusts, federal and state public agencies, and 42 New Hampshire municipalities in the coastal watershed. The Partnership offers an opportunity for organizations to share information and resources, and identify, evaluate and complete collaborative projects. See Partner list and links.
The Partnership's Principal Partners include:
Great Bay National Estuarine Research Reserve
New Hampshire Audubon
New Hampshire Fish and Game Department
Society for the Protection of New Hampshire Forests
Southeast Land Trust of New Hampshire
The Nature Conservancy, New Hampshire Chapter
U.S. Environmental Protection Agency
U.S. Fish and Wildlife Service, Great Bay National Wildlife Refuge
U.S.D.A. Natural Resources Conservation Services
Download the Great Bay Partnership's informational brochure: GBRPP Report 2022 (PDF format)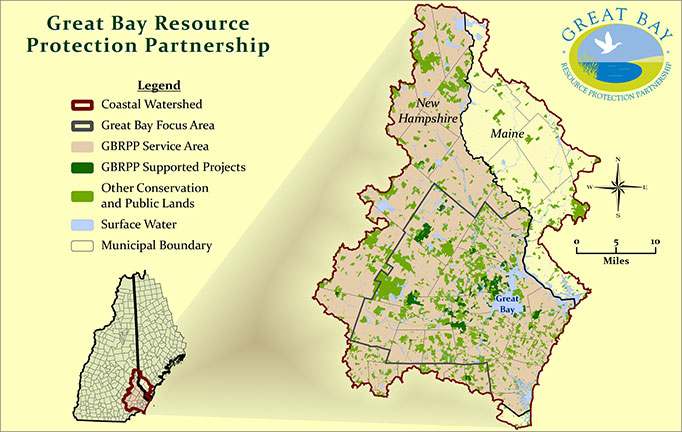 SaveSave
SaveSave