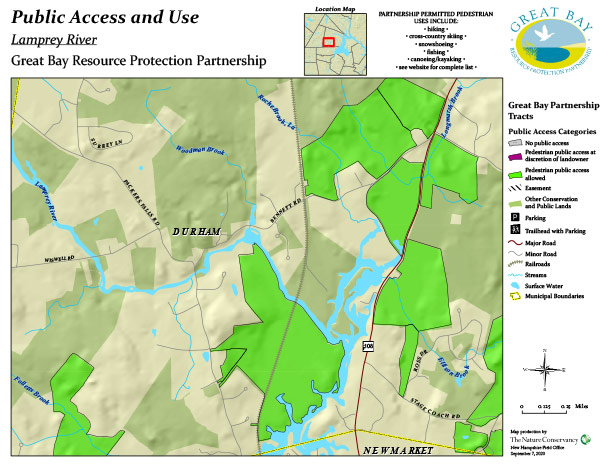 Download higher quality image for printing (PDF format)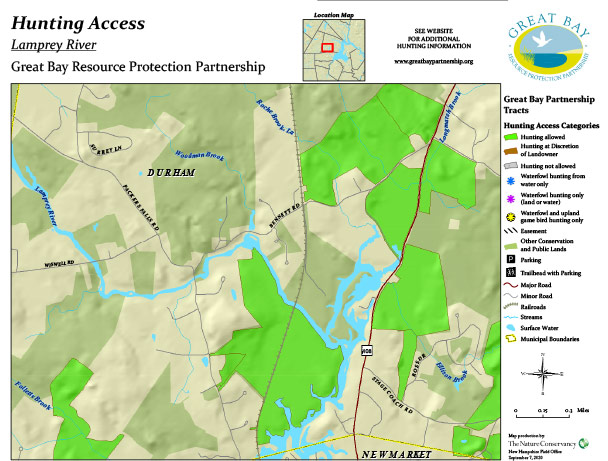 Download higher quality image for printing (PDF format)
Map Information and Use: Most of the Partnership's conservation lands allow for pedestrian, non-motorized, non-commercial outdoor recreational uses (i.e.: hiking, hunting, bird-watching). However, some conservation properties have public access restrictions.
Partnership funded conservation lands are organized into twelve Conservation Project Areas. Each Conservation Project Area has two maps: Public Access & Use and Hunting. Go to the appropriate Conservation Project Area page to access maps.
Please note that the maps contain Public Access and Hunting information for only Partnership funded lands. Other conservation lands are shown on the maps, but hunting and public access information is not provided for these properties. To receive information regarding appropriate Public Access and Hunting on other conservation lands, please contact the landowner. For any Partnership funded conservation properties identified as requiring "Discretion of Landowner" for Public Access or Hunting the landowner must be contacted and grant permission prior to entering the property. Land ownership information for both Partnership funded conservation lands and other conservation lands may be obtained through the municipal offices and records.
Specific notes are provided on the maps if hunting is restricted to a certain use, such as waterfowl hunting only. There are also notations for properties that have access limitations, such as water access only. Please be respectful of these conditions. Partnership conservation lands that have a designated parking area ("P") and designated pedestrian trail and parking ("T") are identified on the maps. Unless specifically identified ("P" and "T") there is no designated Parking Areas, Trails or Trailheads with Parking for the Partnership funded conservation lands.
Public Access and Use Map: Categories of Use
Pedestrian Public Access Allowed. Allowable Pedestrian Public Access Uses:

Hiking
Cross-Country Skiing
Snowshoeing
Fishing
Canoeing / Kayaking

Pedestrian Public Access at Discretion of Landowner
Pedestrian Public Access Not Allowed
Public Access Uses allowed only on designated properties:
Trapping (on certain lands, requires landowner permission)
Snowmobiling (on designated trails only)
Geocache Placement (requires landowner permission)
Hunting Map Categories of Use:
Hunting Allowed
Hunting at Discretion of Landowner
Hunting Not Allowed
Public Access Considerations for all Partnership funded conservation lands:
No motorized vehicles including All Terrain Vehicles (ATVs), except snowmobiles on designated snowmobile trails.
If there is an existing trail system on a conservation property, please remain on the trail in order to minimize ecological impacts.
Keep all dogs on a leash: Respect wildlife and others using the trails.
Carry in / Carry Out Trash
Information for Safe Hiking and Outdoor Recreational Activities: